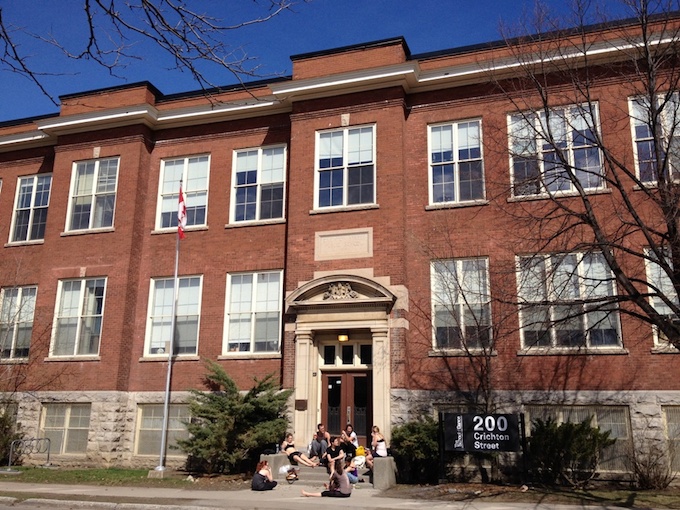 In August 2000, The School of Dance purchased the Crichton Street School at 200 Crichton Street, Ottawa, raising $850,000 for the much-needed renovations and restorations through grants and private donations. The heritage-designated building is located on the edge of a safe, residential area of central Ottawa. Street parking is available. Crichton Street is on the local bus system; the daily bus schedules are posted in the main hallway.
The School has six dance studios, each with custom-built, sprung Rosco floors; there are two classrooms, a Music Centre, a Resource Centre for community use, the Stuart Conger Learning Centre, an Art Centre for visual arts classes, a Physio-therapy and Wellness Centre and Studio 6, the home of the Artists in Residence. There are two visual art galleries – Gallery200 on the 2nd floor and the Main Floor Gallery – for curated exhibitions.
There are change rooms with shower facilities and filtered water fountains in the halls.
There is also a student green room with simple equipment such as a fridge and microwave for the students' use.
The School has a small supply of costumes and props for special performances; simple portable sound equipment, and video (camera, VCR and television), CD and Tape equipment for use in classes; and exercise mats for the Pilates and somatic programmes.
The School uses the latest computer technology to create timetables, track teachers, maintain records, manage finances, maintain communication with parents and students, maintain communication with the Board of Directors, National Advisory Council and donors, and for desktop publishing purposes. The School uses software donated by Microsoft Canada to run its annual fundraising events and software donated by Adobe for its desktop and web-based publishing.