1978 to 2018
For forty years, The School has depended on the support of volunteers, people who have given generously of their time, knowledge and expertise. If you have a skill or an interest that you would like to share with The School, please contact Fern Villeneuve at 613-238-7838 to register into our volunteer bank. We need volunteers 52 weeks of the year to help in the office, work on our fundraising events, assist the students and/or just generally advocate on behalf of The School.
Each season, the Board of Directors of The School sets the fundraising goal. The current goal has been set at $150,000. The Board, School administration, volunteers, parents and students will spend 12 months working towards that end.
The School of Dance is a registered charity. All cash gifts or material gifts of a substantial nature are charitably receipted so that the individual donor can include the receipt in annual tax documents.
A business may choose to become a sponsor.
Starting with two inaugural gifts from Stuart Conger and Michael Potter in the 2003-04 season, The School is now able to accept stocks, a gift which can be most beneficial to the donor and The School of Dance.
The School provides scholarships for students.
Project funding is also most welcome and could be in the form of a donation towards the expenses of the guest choreographers or the production costs of performances at the National Arts Centre and Arts Court.
The School of Dance is grateful for the support shown by its donors. Their generosity and thoughtfulness permits The School to accomplish its mission to foster education in the art of dance and to reach out into the community.
There are many ways to support The School of Dance. The School accepts gifts in the form of cash, cheques, credit card payments, publicly traded securities, and in-kind gifts.
Donate by phone
613-238-7838
Donate by mail
The School of Dance
200 Crichton Street,
Ottawa, Ontario, Canada
K1M 1W2
Donate via CanadaHelps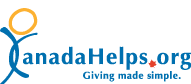 You can also make an
online donation on the secure CanadaHelps website by simply following their instructions. Your credit card will be debited, you will receive your receipt from CanadaHelps and The School of Dance will advise you once the donation has been received.
To learn more about the different ways you can encourage up and coming Canadian dance talent and to find out more about The School's many Community Outreach Programmes, please contact Merrilee Hodgins, Artistic Director.